IoT Technology in security monitoring
The ,,Internet of Things", popularly called IoT, is such innovation in Security technology that drastically reduces or minimizes the operating and maintenance costs of monitoring station equipment, and enables a clear view to status of the communicators and alarm systems connected to them.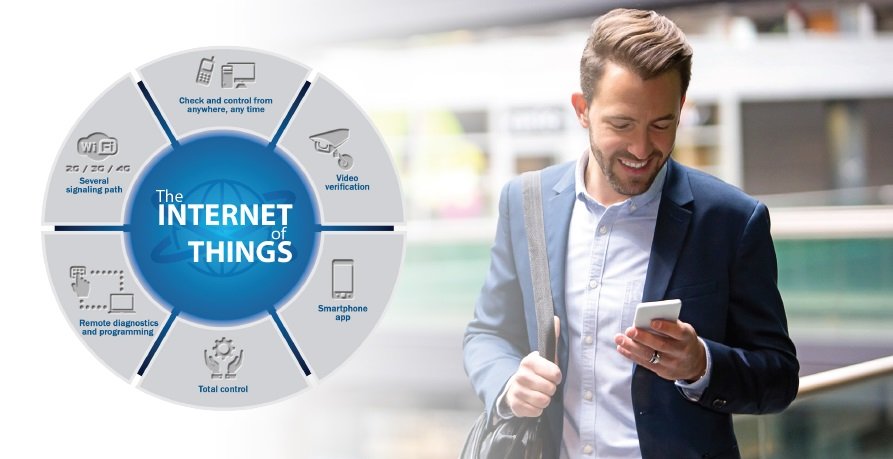 This technology allows remote connection to all SECURECOM communicators, as well as to alarm of fire protection systems connected to them. Practically all settings of the device are visible or programmable through a simple browser software, all events that happened or are going on can be watched or reviewed, the device connected to it's serial port can be remotely connected, therefore connected alarm panels can be programmed, checked and watched from any place where a simple Internet connection is available. Besides that, alarm panel status (alarmed, alarm, troubles,..) and latest events can be reviewed, or even a alarm panel status can be changed by a customer through a Smartphone application.
With virtues of the IOT technology, monitoring stations and installer/maintenance of the systems can see all details of connected security system without on-site cehcking. With it's help, all anomalies can be identified and malfunctions bypassed remotely This way the systems can be kept at least partly functional and the required maintenance can be much more cost-effective scheduled, depending on the malfunction level.
An additional special possibility of this technology is the video verification feature. This means that a link to a camera can be assigned to each detector or area, and this camera picture can be opened at the operator, to identify the alarm real cause with live viewing of the affected area. Besides several communication type. (PSTN, 2G, 3G, 4G) options, the Wi-Fi technology is also supported, thus eliminating all additional communication costs or fees.
From the end user point of view, the additional feature is the option of alarm system status viewing or controlling (arm/disarm) through the Smartphone application, that provides more comfort to their security system. Therefore, this increased value can be provided by the monitoring service operator to end users as optional, additional service.
SC product line
Universal Alarm monitoring Communicator, for forwarding of the Contact ID reports received from alarm panel through RING/Tip terminals (emulated phone line) to IP receiver, through 2G/3G or PSTN line connection
Devices accepts the contact ID based report codes that alarm panel transmits through the emulated phone line. These reports are converted to format defined by SIA DC09 standard format and sent tot he appointed monitoring station, following the reporting direction selected with phone number that was dialed by alarm panel for the particular report. Data is sent through the cellular network in TCP/IP or UDP packages, or through PSTN line without any conversion. This way, the reports can be sent to one receiver with backup connection, or to two different receivers for double reporting. If required, the second receiver can be a simple phone line receiver, regardless if it is used for backup or double report receiving.
With this procedure, the device forwards the Contact-ID based report codes from alarm panel to the monitoring station IP Receiver.
Focus on complete professional Alarm Monitoring
In all devices with Pulloware server support, reports that are sent through this communicator to IP receiver are also sent to supervising IoT Server, and forwarded to Smartphone application as regular message or ,,push notification", and the use can use the same application to arm/disarm his Alarm system through the keyswitch realy ont he device.
These device can be accessed through a Server's Web site, all settings or firmware can be changed, and the Alarm panel connceted to device serial port can be remotely programmed with appropriate software, same as with the direct cable conncetion.
The second line connection ( used as backup/doubled conncetion) can be used with real PSTN line, or any other kind of communicators that emulates phone line ( GSM communicator, long range radio transmitter, VOIP communicators,…)
With the GPRS devices provides the most of features that are expected in professional IP reporting systems, additional features that are avaliable in the 2G and 3G devices increase the security level, therefore their usage is recommended mainly fo systems with higher security levels (banks, ATM, governmental offices,…)