Description
Analog phone line simulator
Voice / SMS communicator and GSM Gateway Phone line simulator with additional 2 contact inputs, capable for 2 different operating modes.
Main features
GSM communicator dialler
2 separate modes of operation in one device
PSTN line simulation for monitoring station signal transmission
SMS/CALL about 32 different kinds of CONTACT ID reports
Signals to 4 telephone numbers
2 contact inputs with independent signals SMS/CALL
Handling SIM PIN code
Forwarding SMS
Setting and diagnostics via USB connection
Change settings through SMS message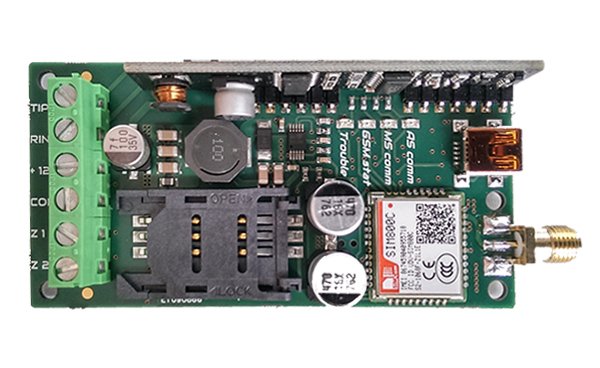 Short functional description of SC-GSM phone line simulator
In Standalone mode the phone line simulator behaves like a monitoring station receiver which receives and handles the CONTACT ID communication of alarm control devices.
Further function is that by controlling the contact inputs the communicator sends the assigned SMS messages and calls the pre-set telephone numbers.
In Transparent mode fully replaces phone line. By this means the alarm control panel can send the report codes to monitoring station, or a simple phone device can be used on places where the phone line is not available (elevators, SOS or INFO call points, weekend houses,…)
Application
The device made for a secure and quick transfer of Security System's events to Monitoring Station, through a GPRS IP network. Being an emulator of a classical PSTN line, it is compatible with most security panels on market.
In addition, contact inputs can be used to send a fast warning from any device with contact output (watering systems, stand-alone machines, vending machines, panic alarm buttons…) to a monitoring station.
The communicator (stands as a simulated telephone line for the intruder alarm system) receives Contact ID event codes from the intruder alarm system and transmits it via GPRS network to the monitoring station complying with the ANSI/SIA DC-09 standard.
User manual
---

 SC-GSM user manual v1.3 (en): SC-GSM_EN_v1-3
---
Phisical properties:
| | |
| --- | --- |
| Cellular Bands | GSM (850/ 900/ 1800/ 1900MHz) |
| Loop current | 25mA |
| Power | 9-30V (DC) |
| Power consumption (max.) | 300mA |
| Power consumption (idle) | 100mA |
| Impedance | 100-470 Ohm |
| Dial tone | 425 Hz |
| Line voltage | 48V |
| Operating temperature | 0 … +70°C |
| Dimensions | 40  x 80 x 15 mm |