GSM Intercom with remote management
Intercom and access control unit operating on mobile GSM network with internet WEB access and mobile application
Our newest model DP-GSM (2G/3G) Intercom is a premium category vandal-proof design that we have created based on the demand of our customers and the market.
The same outputs can be controlled parallelly by mobile applications (Andorid and IOS) as well.
Gate control function by free call, 100 user phone numbers can be configured.
Advantages
• No missed clients, guests or visitors, since the intercom unit calls the owner's mobile phone,
no matter where the owner is.
• On call, the owner can let in the guest, client or courier remotely
• In case of absence, burglary attempts can be prevented by imitating the apparent presence.
• Fast and easy installation, easy configuration using a PC.
• The intercom can be remotely managed via internet.
• Supports the use of the traditional and smartphone
Setting locally with MS Windows program
The device can also be set remotely, which means that via WEB all settings and users can be modified and the operation of the unit can be monitored. For remote setting and control via mobile application a SIM card with internet access is necessary.
Remote configuration via internet (WEB)
Almost the complete configuration of the intercom and their modification can be done remotely via the internet.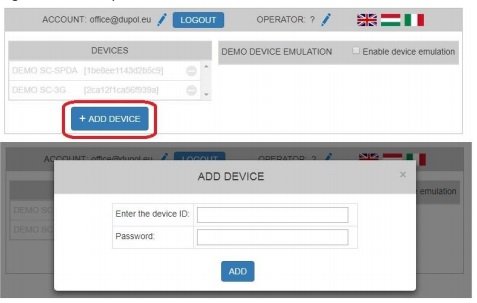 Types
DP-GSM/2G-SM-1 (1 button, surface mount design)
DP-GSM/2G-SM-2 (2 button surface mount design)
DP-GSM/3G-SM-1 (1 button surface mount design)
DP-GSM/3G-SM-2 (2 button surface mount design)
DP-GSM/2G-FM-1 (1 button, flush mount design)
DP-GSM/2G-FM-2 (2 button, flush mount design)
DP-GSM/3G-FM-1 (1 button, flush mount design)
DP-GSM/3G-FM-2 (2 button, flush mount design)