Description
Controlling of gate or garage door by smartphone, with real feedback about the position of the gate and no communication cost.
Advantages
Controlling of the Gate control unit from unlimited distance. Using Smartphone application, you can start or stop  gate opening or closing.
Several gates can be controlled by the application
Momentary sending the status change information as anything happens. The "push notification" messages are sent on status change (CLOSED, OPENED, ERROR,…).

garage doors

You can view the animated opening or closing of the gate in the application. The device is monitoring the power of the door engine itself, and as a result  synchronizes the application with the real gate moving.
Features
of Smart Garage Door Opener
Starting the relay for the gate drive
Gate position supervision from the motor's supply wires with direct connection
Gate position monitoring from the limit switch
Sending notifications about open, close and failure, for the authorized users simultaneously
Supervision and control through web site or smartphone application
The number of users is not limited
Events stored with authenication of source (who opened the gate and when)
No router setup for device installation
The communication is encrypted with AES-128 encoding.
VIDEO
SMART GATE CONTROL SOLUTION
The product is designed to fulfil the modern request for comfortable environment. Using a local Wi-Fi network, it provides gate control functions on Smartphone platform through Internet connection. Smart gate openers new garage door opener remote garage door controller 
Open and close the garage door from unlimited distance
Several gates can be controlled by the application
Control and monitor the gate on one platform
Events stored with autheniciation of source
Application area






Main features
| | |
| --- | --- |
| Number of users: | Unlimited |
| Cost of smartphone application: | Free |
| Gate motor compatibility: | Compatible with most types of gate motors |
| Technical support: | Within 24 hours |
| Warranty: | 2 years |
smart home application
Status messages
OPENING
OPENED
CLOSING
Connection 
open close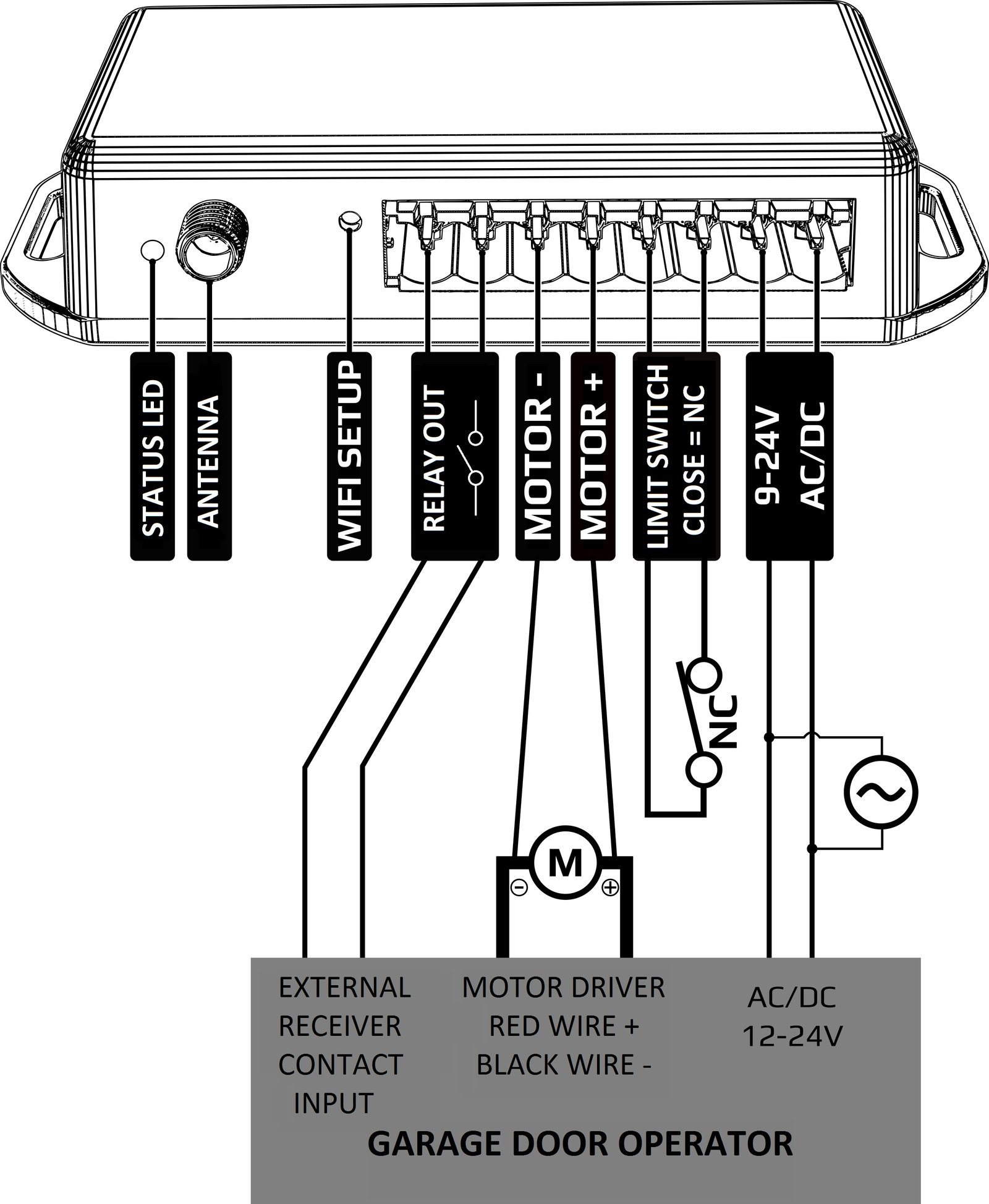 Technical details
2 WIFI connections for primary and backup access points (IEEE 802.11 b/g/n)
Limit switch input (NO type)
Controllable relay (NO type)
Motor monitoring inputs (M+/M- up to 48V DC)
Several power supply: 9-24V AC or DC with max. 200mA peak current.
Specifications 
of Smart Garage Door Opener
| | |
| --- | --- |
| Supply voltage: | 9-24V AC/DC |
| Consumption: | 100mA @ 12VDC |
| Environmental conditions: | IP44 |
| Maximal motor voltage ( Maximal voltage on monitor inputs): | 24V |
| Output contacts maximal load, voltage: | 24V/1A |
| Wireless network type: | WIFI (IEEE 802.11 b/g/n) |
| Operating temperature: | -30°C to +50°C |
Manual

 DP Door-I instructions for use v2.0 (en): DP Door-I Gate Opener-en
 The decivce has smart home compatibility – smart garage door openers  control your garage door